Greek bailout talks set for Monday, as loan request sent to IMF
Comments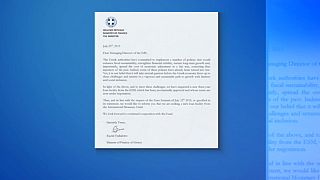 In a key step in Greece's quest for a third bailout package, the IMF is examining a demand from Athens for a new loan.
A letter was sent from the Greek Finance Ministry ahead of talks expected on Monday between Athens and its creditors.
"We will discuss with the Greek authorities and with our European partners the timing and the modalities for the discussions," said the IMF in a statement.
Two reform measures seen as a prerequisite for the start of negotiations have already been approved by the Greek parliament.
At the talks will be representatives from the European Commission, the European Central Bank and the International Monetary Fund.
The prime minister accepted the new terms, saying he was against them, but they were necessary for Greece's survival.
Many Greeks have praised Alexis Tsipras for his stance, but others are angry. Within the ruling party, Tsipras had to sack those opposed to the u-turn in the government's position.
Former finance minister Yanis Varoufakis also left the government and has been attacking the reform plans.
Tsipras is also having to deal with a rebellion in his left-wing Syriza party, which came to power on the promise of ending austerity.
To get the latest measures approved in parliament, the prime minister had to rely on votes from opposition parties. But it is not clear how long this support will last.
Many residents are worried that people will not support more austerity.
One woman in Athens said: "Yes of course they're going to do better than the others. They're young, with fresh ideas. All the old ones have left, so something better will come."
A pensioner said: "This government did the right thing. It's for the generations to come. It's a fact that things are hard and they are going to get even harder. But our only hope for something to be built, for the future generations, is what this government did."
Another man said: "I think it's going to be very tough for them to implement all these things, really hard. I hope people support them and want them to be implemented, but I think it's going to be very hard."
The talks on a third 86-billion-euro bailout were due to start in Greece on Friday but were delayed because of concerns about choosing a secure location in Athens.
It is understood the EU and IMF officials are worried about public anger towards them over austerity and want to be sure the location for the talks is secure.
The crisis came to a head when Greece missed a debt repayment to the International Monetary Fund and banks were closed for three weeks.
One of the big issues yet to be resolved among the creditors is whether debt relief – in the form of restructuring or the cutting of debt – is a possible solution.
Up until now the creditors, led by Germany, have been insisting on tax increases, spending cuts and other financial reforms.
Athens is hoping to have a new bailout deal approved before August 20.
One opinion poll published on Saturday gave Alexis Tsipras a 61 percent approval rating.
A majority of 78 per cent of people surveyed also wanted Greece to stay in the eurozone.