Green light for world's first malaria vaccine
Comments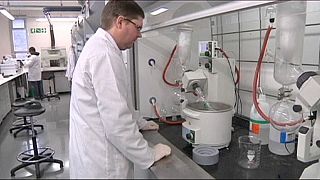 The green light has been given by European regulators for the world's first malaria vaccine.
The European Medicines Agency is recommending the drug be licensed for use in babies in Africa.
World's first malaria vaccine gets green light from EU drug regulators http://t.co/sr69EeDT2wpic.twitter.com/sG69iNw0r1

— Huffington Post (@HuffingtonPost) July 24, 2015
The vaccine, called Mosquirix, was developed by the British drug maker GlaxoSmithKline, in partnership with the PATH Malaria Vaccine Initiative.
It was also part-funded by the Bill & Melinda Gates Foundation.
Huge hope for humanity as world's first #Malaria vaccine gets go-ahead from European regulator EMA_News</a>. Congrats for decades of work!</p>&mdash; Kristalina Georgieva (KGeorgievaEU) July 24, 2015
This is the first licensed human vaccine against a parasitic disease, but the World Health Organisation is yet to give its recommendation on where and how it should be used.
.WHO</a> at <a href="https://twitter.com/hashtag/Geneva?src=hash">#Geneva</a> briefing: It is the first time ever that a <a href="https://twitter.com/hashtag/malaria?src=hash">#malaria</a> vaccine would be reviewed by a regulatory body.</p>&mdash; UN Geneva (UNGeneva) July 24, 2015
Trials showed the vaccine only reduced episodes of malaria in children by up to 46 percent (by 27 percent in babies between six and 12 weeks and by about 46 percent in babies between five and 17 months).
But the drugs company says it will provide what it calls a "meaningful contribution", in conjunction with insecticides and protective nets.
Malaria kills hundreds of thousands of people every year, mostly in Africa, with more than 80 percent of deaths among children.
GSK's chief executive, Andrew Witty, said: "While RTS,S (Mosquirix) on its own is not the complete answer to malaria, its use alongside those interventions currently available such as bed nets and insecticides would provide a very meaningful contribution to controlling the impact of malaria on children in those African communities that need it the most."
Joe Cohen, a GSK scientist, told the Reuters news agency: "I have absolutely no reservations in terms of rolling this vaccine out. Why? Because the efficacy, when translated into cases averted and deaths averted, is just tremendous.
"It will have an enormously significant public health impact."
Malaria vaccine, 30 years in the making, gets go-ahead from European regulators http://t.co/Ekn3Din2Sjpic.twitter.com/VQYrrNvKq6

— Agence France-Presse (@AFP) July 24, 2015
The first-ever malaria vaccine just got a big break http://t.co/bpmEBTOzB6

—

TIME

.com (@TIME) July 24, 2015