Is Jeremy Corbyn too left-of-centre to become next leader of the UK Labour party?
Comments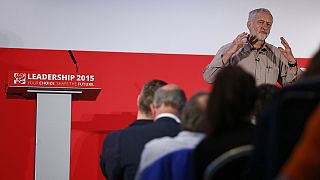 Tony Blair, former leader of the UK's Labour Party and its most successful election winner, recently told his party it could not win power in Britain by lurching to the left, urging it to embrace the centre-ground of politics instead.
"You win from the centre, you win when you appeal to a broad cross section of the public, you win when you support business as well as unions, you don't win from a traditional leftist platform," former prime minister Blair said in a speech in London.
He spoke as a YouGov poll showed left-wing candidate Jeremy Corbyn, who had previously been regarded as an outsider, could become the party's next leader.
The poll showed support for Corbyn at 43 percent, with the party's health spokesman Andy Burnham on 26 percent and its home affairs spokeswoman Yvette Cooper on 20 percent. Liz Kendall was on 11 percent.
If you missed the #LBCdebate you can watch it back in full here http://t.co/TcYp0rrUla or best bits here http://t.co/78RqgzukbB.

— Iain Dale (@IainDale) July 22, 2015
Blair said support for the radical left was "reactionary", and that Prime Minister David Cameron's Conservative Party wanted Corbyn, 66, to win because he would be easier to defeat.
He said he would not be endorsing a particular candidate for the leadership. But he added that those who said their heart was with Corbyn should "get a transplant".
"The modern world means that you have to change with it and if you don't, you get left behind," Blair said. "To articulate this idea of a modernising Labour Party is not a betrayal of your principles, it is actually the only way that you implement principles in the real world."
Corbyn, speaking to reporters in central London, rejected Blair's criticism and said Labour had not lost the election for being too left-wing, but for offering "austerity-light."
Blair also said Labour, which was almost wiped out in Scotland by the Scottish Nationalist Party (SNP) and lost many votes in the north of England to the anti-EU UK Independence Party (UKIP), needed to tackle the issue of nationalism head on.
"The SNP and UKIP have clouded our sense of direction because they seem to point away from the centre," he said.
The video which shows why Jeremy Corbyn is winning in the Labour leadership race http://t.co/HKQf8XNScl

— The Independent (@Independent) July 23, 2015