Greek banks reopen but many restrictions remain
Comments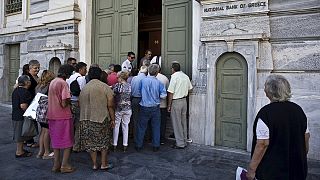 Greeks finally saw their banks reopen on Monday (July 20) but many restrictions remain.
Customers may not cash cheques, only deposit them, and will not be able to get cash advances abroad with their credit or cash cards, only pay for purchases.
The limit on cash withdrawals remains at 60 euros a day, up to a weekly limit of 300 hundred euros. The weekly limit is expected to be increased to 420 euros next week.
There is a lot of confusion, as Andreas Chrisavas explained:
"They said that today we would be able to withdraw 420 euros, but I could only withdraw 60, they just told us we can withdraw 60 each day, or if wait until Friday, we can withdraw 420 euros, but they did not say on TV, 'don't go to the bank today, wait until Friday to get the full amount'," he said.
Greek banks closed three weeks ago to prevent a bank run after Greece's second bailout expired and the European Central Bank did not increase emergency funding.
Last week, parliament passed a bailout agreement which released that funding.