British tabloid defends release of Queen Nazi salute footage
Comments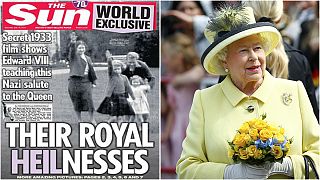 It's a home movie the British Royal Family would rather have kept under wraps. Shot in 1933, the reel shows Queen Elizabeth performing a Nazi Salute as a child.
Buckingham Palace has blasted the release of the footage saying it was disappointed that a film shot eight decades ago was obtained and exploited in this fashion.
A palace source said that most people would recognise the context saying this is a family playing and momentarily referencing a gesture many would have seen in contemporary news reels.
However, the editor of tabloid newspaper The Sun, Stig Abell, who was behind the release defended the decision.
"The Sun starts from the position, a relatively purist position, that it is in the public and national interest to reveal what is a document, a piece of footage of historical and cultural significance."
The Sun said that the emphasis was not on the child who would become queen but her uncle, King Edward VIII who later abdicated to marry socialite Wallis Simpson. Both faced numerous accusations of being Nazi sympathisers.
The palace sought to highlight the Royals dedication to the war effort.
Also, pictured in the footage is the Queen Mother, but her official biographer William Shawcross believes there is no evidence to suggest any affinity with the Nazi party.
"I spent six years or more in the Royal Archives researching the official biography of the Queen Mother, which is a very thick book as you can see (holds up copy) and I read thousands and thousands of her letters written in the 1920s, 1930s and 1940s and I would say there is not a scintilla of evidence that she wrote anything ever, or felt anything ever that was pro-Nazi".
It is not the first time the Sun newspaper has embarrassed the Royals. In 2005, the queen's grandson Prince Harry was pictured wearing a Nazi costume to a party.
So basically Prince Harry was only following a proud tradition of Royal family Nazi themed japes….#Salute#queenpic.twitter.com/fGIYx1GaUc

— Darren Winter (@DarrenWinter) July 18, 2015