Eid al-Fitr 2015: Muslims mark the end of Ramadan around the world
Comments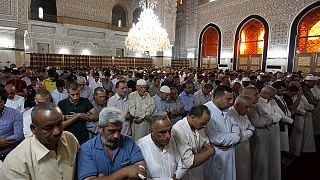 Muslims around the world have been celebrating Eid al-Fitr which marks the end of the fasting month of Ramadan.
Lasting several days the festival began with the start of the lunar month of Shawwal which differs every year.
Iraq
The day begins with prayer, however, in Iraq the so-called Islamic State group has issued a warning to the residents of Mosul to avoid Eid al-Fitr prayers.
In Baghdad, security was tightened around places of worship.
"We hope there will be peace and security in Iraq and may all the displaced families return to their homes, wishing al Iraqis the best of luck," Salman Al Jumali, a worshiper in Baghdad told reporters.
Eid prayers #Adhamiya in #Baghdad of Abu Hanifa mosque Happy Eid #Iraqpic.twitter.com/PqnQ6teo0K

— #IRAQ شمرية العراق (@moonnor27) July 17, 2015
Gaza
In Gaza, the signs of last year's 50-days of fighting with Israel remain visible, though there were no threats of violence, the impact could still be felt.
"Before the war we used to prepare cookies and sweets and buy clothing for our children it was a real Eid. But this Eid I cannot even prepare cookies it will cost me 800 shekels and I don't even have 100 shekels," explained one resident.
Subhanallah so beautiful. From Eid prayer in Gaza today. #Eid#PrayForGazapic.twitter.com/OrWCCXkThF

— Abbas Sarsour (@iFalasteen) July 17, 2015
Turkey
While many in Istanbul hit the road for a four-day break causing traffic chaos, those who remained the city celebrated with a selection of local delicacies. In Turkey the Ramadan Feast goes by the alternative name of 'Sugar Feast'.
The Sugar Feast (Şeker Bayramı or Eid ul-Fitr) is the three day festival following Ramadan. #istanbul#sugar#feastpic.twitter.com/QxR5qBTpzP

— İstanbul

LOOK

(@IstanLOOK) July 28, 2014