Sarajevo's vibrant youth probe past, present
Comments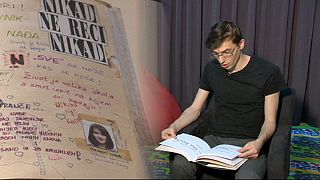 Two decades after the end of the Bosnian War, the children of Sarajevo educate themselves in its history. They have created university exchange programmes, youth clubs, non-governmental organisations and a museum of war childhood.
The Incubator for Social Innovations "Munja" is associated with the Youth Information Agency.
Among Munja's leading participants, Zlatan Kulenovic said: "Our position of social innovation incubator is how to awake, how to inspire, how to motivate, how to show to use what exists, what are your opportunities."
There is a determined drive to share knowledge.
In Sacha Januvo's opinion: "Human rights are being trampled every day on different levels. I think that a lot of people, not just in Bosnia but in general, aren't aware of all their rights, and I don't think they really have the will to explore what their rights are."
Young activists from other countries in crisis today are also invited to Sarajevo. They find immediate recognition from those who were old enough during the 1992-1995 siege of the city.
The founder of the childhood war museum has also compiled a book of children's memories, called 'Childhood in War', rich in illustration and reflection.
Chronicler Jasminko Halilovic said: "Almost 1,000 people answered my call to take part in creating the book — living in 35 countries. In the end, I created a mosaic of these brief memories, different points of view that represent growing up during a war."
An excerpt from the book: "It's cold, bullets whistling outside. No one goes into the basement any more, no matter what. I'd really like an apple."
Some 10,000 civilians were killed in the 44-month Siege of Sarajevo; 1,500 were children.