Baku European Games: Day 14 Highlights
Comments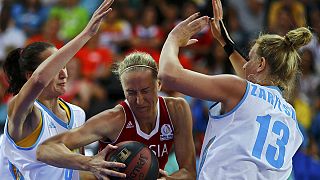 Russia took gold in the women's 3×3 basketball final in a thrilling final by defeating Ukraine 22-17 on the fourteenth day of competition at the Baku European Games.
Their victory was far from inevitable, however, as they struggled to get a foothold early on and allowed Ukraine to make two shots on target within the first ten seconds, although luckily for the Russians, only Ganna Zarytska's effort went through the hoop.
The two sides continued to trade points in the first half of the game and at the seven minutes 50 seconds mark, both sides were tied 5-5. Ukraine was the first to break that deadlock a little later and managed to increase their lead to 9-6 over the Russians, but their opponents closed the three point deficit within a minute to once more tie the scores, this time at 10-10.
Ukraine finally buckled under the Russian pressure in the second half and despite fighting back until the last seconds of play, could not prevent the Russians from running away to a 22-17 victory.
"We had to win," said Russia's Tatiana Petrushina. "We knew that Russia won a lot of gold medals. We wanted to be in this list and give another gold medal to our country."
"It was a game like others, but for a gold medal. We knew beforehand that we would win a medal but we didn't know if it would be gold or silver."
The Ukrainian side later admitted they had been struggling by the time they had reached the final and were perhaps not sufficiently prepared to play for the gold.
"It was our sixth match and was quite hard. We struggled," said Olga Maznichenko. "We played well until the end. We were playing step by step, supporting each other, studying opponents.
"Maybe we weren't ready morally or physically. Each person feels individually, but we are a team. It turned out like this, but we are happy about our silver medal."
Earlier, Spain's Vaga Gimeno Martinez scored a team-high eight points to lead Spain past Slovenia 19-9 for the bronze medal in the women's 3×3, while Russia then also claimed gold in the men's 3×3 basketball to clean sweep the event.
Romania sword-fight for gold
Meanwhile, Romania enjoyed fresh success in the fencing by winning the women's epee final at the Baku Crystal Hall.
Estonia's Irina Embrich opened the scoring with a fast paced style of play and easily took the first round 5-3 over Romaina'a Simona Pop. Her lead was not large enough, however, as Romaina's Simona Gherman was able to level the scores 6-6 at the end of the second round.
The third and fourth rounds continued to be closely contested and it was only in the fifth round that Romania increased their rhythm to break the tie of 6-6 with a series of successful parry-repostes against Embrich's long charges down the piste.
Gherman was eager to increase her side's advantage, and by changing her tactics from prolonged offensive maneuvers to short lunges in the sixth and ninth rounds, was able to catch Estonia's Erika Kirpu and Embrich off guard respectively to win a total of 15 points in the two bouts, securing the victory for Romania 31-25.
"It is the biggest result for us and today is a national day in Romania, so what a present to give back to Romania," Branza said.
"In the individual competition, I don't have to be at my best at the beginning of the day, but in team competition, it is different. We must think the same in the same way and think about every touch.
"We had two tough games today against Russia and Estonia. So we are happy that we won the second gold medal within two weeks."
The bronze medal went to Italy who beat Russia 40-36.