Thousands flood London streets to protest against austerity
Comments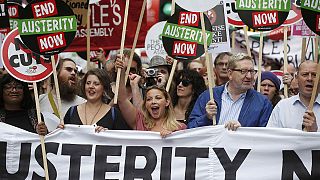 Thousands of demonstrators have taken to the streets of London to air their anger over austerity.
Waving placards and posters, they gathered outside the Bank of England as they made their way from the city's financial district to Parliament Square in Westminster.
There is frustration over measures aimed at resolving a government deficit, which ballooned after Britain rescued trouble banks during the 2008 financial crisis.
"The government seems to be very interested, almost obsessed with cutting benefits for young people who are looking for work," said one demonstrator.
Another added: "A lot of people from up and down the country are here because they've just had enough. They've had enough of austerity, cuts and privatisation."
Britain's Conservative party unexpectedly won an outright majority in a national election last month.They had been in a coalition focused on cutting spending to narrow the country's deficit.
Finance minister George Osborne now says that he wants to make extra cuts this year. The government also plans to reduce spending on social security benefits.