Charleston church shooting suspect arrested after huge manhunt
Comments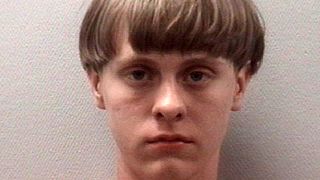 The suspect in the Charleston church shooting, Dylann Roof, 21, has been arrested by police in Shelby, North Carolina after a roadside check.
Roof was identified earlier today from stills photos taken by security cameras at the Emanuel AME church, where nine people were killed by the lone gunman.
After the arrest President Barack Obama made a brief statement.
"I've had to make statements like this too many times. We don't have all the facts but we do know that once again innocent people were killed and in part because someone who wanted to inflict harm had no trouble getting their hands on a gun.
Now is the time for mourning and for healing, but let's be clear at some point, we as a country, we have to reckon with the fact that this mass violence does not happen in other advanced countries," he said.
A memorial vigil has been held at the Emanuel AME church.
Little is known about the suspect. His uncle, who identified him to police, described him as an introverted boy with no job or driver's licence, who stayed in his room all day, and seemed "adrift".
His father gifted him a gun on his 21st birthday, and he was arrested in March and April for drugs and trespass offenses.
A photo posted on social media, where he has 87 friends, 40 of them African-American, shows a scowling young man wearing a jacket bearing the flags of apartheid-era South Africa and Rhodesia, now Zimbabwe.
The shooter told one survivor he would let her live so she could tell others what happened, the president of the Charleston NAACP, Dot Scott, told the local Post and Courier newspaper.
A cousin of the Reverend Clementa Pinckney, Sylvia Johnson, told MSNBC that a survivor of the shooting told her the gunman reloaded five times during the attack during a Bible study group. Pinckney tried
to talk him out of it, she said, before he became one of the victims.
"He just said, 'I have to do it. You rape our women and you're taking over our country," Johnson said.