Zimbabwe exchanges 250,000,000,000,000 local dollars for US$1
Comments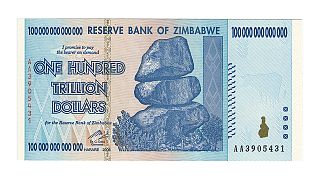 If you suffer from Arithmophobia (fear of numbers) you might want to stop reading now.
The Zimbabwean central bank is offering to convert Zimbabwean dollars into the foreign currency which in practice has been the only way of buying anything in the country for years.
Customers can exchange 250,000,000,000,000 Zimbabwe dollars for 1 US dollar, according to the Guardian.
To put that in context, if you earned a Zimbabwean dollar for every second of your life, you would have 1 US cent by the time you reached the age of 79,275 (yes that's seventynine thousand two hundred and seventyfive).
However, if your money is in the bank already, or was printed after 2009 when foreign currency became officially accepted in the country, the exchange rate is not quite so good and you will need 35,000,000,000,000,000 Zimbabwe dollars to get one US dollar.
As a special offer, however, if your account has less than 175 quadrillion (175,000,000,000,000,000) in it, you can get $5 straight up.
You need to change your money before September or it is liable to become worthless.
The highest note Zimbabwe ever issued was the 100 trillion, now popular as a tourist souvenir but worth only 40 US cents.