McKinney: Viral video raises fresh questions about US police brutality
Comments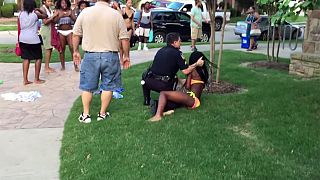 Some 800 people have taken part in a peaceful protest in McKinney, Texas, calling for the dismissal of Police Corporal Eric Casebolt.
#McKinney#McKinneyPolice#ChargeHim paid leave is a slap in the face!! pic.twitter.com/hJIV5QhHog

— Layla Evette (@laylaevette) June 9, 2015
Casebolt has been put on administrative leave after a video surfaced on social media of him pushing a 15-year-old girl to the ground and briefly pulling a gun on another youngster. The clip has since had over seven million views on YouTube.
Dajerria Becton, the teen seen being forced to the ground, told broadcasters the police twisted her arm and grabbed her by the hair.
The incident took place at a pool party in the US town of McKinney, which lies around 50 kilometres north of Dallas. Events took a sour turn when the youngster refused officers' requests to leave a community pool, according to the police.
Aryana Rhodes witnessed the situation unfold.
"My friend, the one who recorded the whole video, was there. He was Caucasian and he was up in the officer's face and the officer didn't say anything at all to him. But he, (the officer) said multiple things to the African American kids and youth there."
Casebolt has been questioned by authorities, but has not spoken publically about the incident.
'Unruly teens?'
Casebolt's behaviour has raised fresh questions about racial bias in the US police force.
Civil rights leaders have told the press they believe the incident was racially motivated. However some witnesses say the youngsters antagonised the police officers and refused to obey orders to stay put and keep the noise to a minimum.
A few area residents told the media the case was not about race, but rather about unruly teens.
An investigation is underway.