EU set for key Latin America meeting
Comments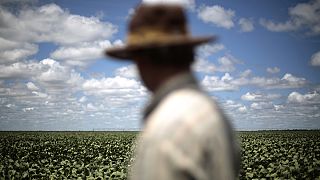 Leaders from Europe, Latin American and the Caribbean will meet again in Brussels this Wednesday and Thursday.
More than 60 heads of state and government have been invited to the Belgian capital to discuss how to improve trade relations with the EU.
It is the second-ever EU-CELAC summit to be held, two years after a similar meeting in Santiago, Chile.
"The world is about to change. There are emerging powers that came to Latin America. Europe is in crisis. Latin America has less interest in Europe than it used to have, and China is occupying an increasing more important position in Latin America on an economic, commercial, financial and also political level," said Sebastián Santander of the University of Liège.
Talks on a free trade deal with a group of South American countries remain deadlocked. Mercosur is the bloc composed of Argentina, Brazil, Venezuela, Uruguay and Paraguay
"From the European side the difficulties that have been historically present are, above all, related with agriculture. Some European countries are wary of competition from the South American countries in that sector. From the South American side, up until now, the major difficulties were related to the industrial and the services sectors because there was this feeling that they weren't yet ready to compete with European industries," said Francisco Assis, head of the EP delegation for relations with Mercosur.
Others say both sides need to be more flexible and more realistic about their goals.
"Maybe the only way – but we have to think how this could be done – is to have a more flexible approach. Maybe an agreement could be negotiated with Mercosur first and then, to allow, within the Mercosur, different members to have different speeds," said Luigi Gambardella, President of the EUBRASIL Association.
The leaders are also expected to tackle other thorny issues such as human rights and climate change.