Pope Francis calls for peace and reconciliation on visit to Sarajevo
Comments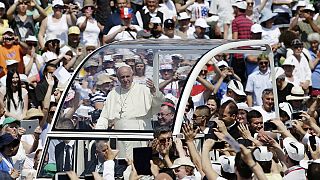 Pope Francis has travelled to Bosnia Herzegovina with the aim of promoting peace and reconciliation twenty years after the end of the civil war that devastated the former Yugoslav republic.
Over 60,000 people turned out for a mass held by Francis at a stadium in Sarajevo, a city full of mosques and churches once known for being a symbol of religious and ethnic diversity.
Speaking to the crowd, the Pope warned:
"In the times we're living in, God aspires for peace but the will to build it clashes with the fact that in our world there are several armed conflicts taking place, a kind of Third World War in several places."
Earlier Pope Francis met with the three-member Bosnian presidency and spoke of how peace initiatives between the country's Croats, Serbs and Bosniaks showed "how the deepest wounds can be healed".
Pope Francis' arrival in Sarajevo also comes days after the entry into force of a landmark EU agreement on closer ties with the country.