19 Climbers killed in quake near Malaysia's highest mountain
Comments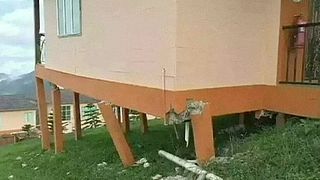 A 5.9 magnitude earthquake has hit near Malaysia's highest mountain. The quake by Mount Kinabalu in Sabah state killed at least 19 climbers according to EFE news agency.
A 12-year-old student from Singapore who was in a trekking group of 40 is among those who were killed and a 30-year-old guide.
Others have not been identified. More than a hundred people of at least 16 nationalities, who had been stranded, have made their way to the safety at the park's HQ.
These included: 117 Malaysians, 38 Singaporeans, five Americans, four Dutch, three British, two French and two Australians, according to Ranau district police chief deputy superintendent Farhan Lee Abdullah.
There were also tourists from Belgium, Thailand, the Philippines, Kazakhstan, India, New Zealand, South Korea, Denmark and China.
It is not clear how many remain on the mountain as rescue operations are being hampered by bad weather and landslides.