Scotland seeks stronger EU voice
Comments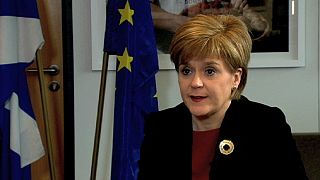 The woman who propelled the pro-independence Scottish National Party to win 56 seats in the United Kingdom parliament in Westminster in May is determined that Edinburgh have a greater say in European affairs. James Franey talked to her in the EU capital.
The UK government threatens to throw all of its toys out of the pram if doesn't get its own way.
euronews, James Franey: "Scottish First Minister Nicola Sturgeon, thanks very much for being with us."
Scottish First Minister Nicola Sturgeon: "You're very welcome."
euronews: "UK Prime Minister David Cameron himself has been on a whistle-stop tour of Europe. Here you are in Brussels; what brings you here, what do you hope to achieve?"
Sturgeon: "Well, I was making a speech this morning [June 2nd] at the European Policy Centre, and in that speech I was setting out what I consider to be the positive and overwhelming case for the UK (and as part of that, Scotland) to remain a member of the European Union.
"I want very much, in the period running to up the UK's in-out referendum, for people outside of the UK to hear that there are voices in favour of the UK staying in Europe.
"Not because it's perfect — I was also setting out some areas of reform that I think would be sensible — but Scotland's and the UK's economic interest, I think our social and cultural interests — lead me to the conclusion that we are far better off being members of the European Union and arguing for that reform from within."
euronews: "What can you realistically expect to achieve when EU relations remain a competence [jurisdiction] for Westminster?"
Sturgeon: "Well, it's no secret that I would love that to be different. I wanted Scotland to vote 'yes' to independence last year, but we didn't do that. Therefore, what I am seeking to achieve is a louder voice for Scotland at Westminster but also in the European Union.
"So, the proposals for further devolution that will shortly be considered by the Westminster parliament touch on areas of Scottish government influence and [its] role within European decision-making, and more particularly within the formulation of UK decision-making that then feeds into European decision-making.
"I think we should have a much stronger and more formal role in the development of the UK position on matters before the European Union.
"I think where a UK minister is not able to lead a [European] Council meeting, a Scottish government minister should lead, if we have devolved responsibilities in the area. We've had circumstances in the past where Scottish government ministers, on fishing for example, have had to sit quietly while a civil servant leads discussions at a Council meeting. That's wrong!
euronews: "But the UK is the member of the EU, not Scotland.
Sturgeon: "I accept that. It's not the position that I want to be the case but I accept that is the position we are in. But the whole point of devolution is to give Scotland and other devolved nations within the UK a louder voice and more influence and I want to see Scotland take that opportunity both at a UK level and within the European Union.
"I have to say the people that I speak to when I come to Brussels are very open to hearing more of the Scottish voice."
euronews: "Can I just go specifically into what David Cameron is looking for? It is often said that he has not laid out what he wants, but in fact he has in a number of speeches over the past few years. Do you think EU migrants should be able to claim in-work benefits if they've been living in the UK for less than four years?"
Sturgeon: "I think there is a case, and I said this today, for looking at how we change the rules and regulations around benefit entitlement to further crack down on abuse. But I think when you try to go beyond that to fundamentally undermine the freedom of movement then that takes you into different territory."
euronews: "So you would oppose that?"
Sturgeon: "I am yet to be convinced of that. There are already rules in place in terms of habitual residence, the right to reside test, periods for entitlement.
"So, yes, I think there are ways in which we should look at how we tighten those rules to crack down on abuse, and I guess there would be a lot of support for that in other countries.
"But freedom of movement surely is a fundamental principle of the European Union and we benefit from it because many people from Scotland [and] other parts of the UK, go to other European countries to live and to work."
euronews: "Do you think we should strip out a reference to 'ever-closer union' in the EU treaties?"
Sturgeon: "I think that is focusing on rhetoric, rather than substance."
euronews: "It's what Mr. Cameron wants."
Sturgeon: "Well, I don't have to agree with everything that Mr. Cameron wants, and I think he has yet to set out why that is so fundamentally important.
"The UK is not in the euro. I support the fact that it is not in the euro. I wouldn't support an independent Scotland going into the euro. So in a sense, we have the practical manifestation of not going down every road to ever-closer union that might have been envisaged when those words were written.
"Why you need a treaty change to underline that is less obvious. I think the danger that David Cameron is getting himself into is that he's putting up these big issues of principle that probably he can't deliver. That makes it much harder for him to argue the positive case for EU membership."
euronews: "Should non-eurozone countries have a say in decisions only affecting the eurozone?"
Sturgeon: "I think there is not just a case for, I think there is inevitably going to be a direction of travel towards greater governance of the eurozone by eurozone countries. I think that to some extent, that is one of the logical conclusions of much of the UK's position.
"[However,] what the UK sometimes appears to present as if it wants is to have its cake and eat it [to enjoy the benefits of holding opposing positions].
"It doesn't want to be in the eurozone but it wants to continue to have influence in the decisions that govern it. Now, these are complex discussions and countries will have to judge and assess and reassess their national interests in all of these discussions, but I think one of the problems — you said that people know what David Cameron wants, and maybe in very, very broad terms that's true, — [is that] there is a lack of detail and definition around that that I don't think is helping the debate right now."
euronews: "Should we stop migrants claiming child benefits for dependents living outside the UK?"
Sturgeon: "Again, that's one of the examples of where there may well be and where there is a case to look at sensible changes that are about cracking down on abuse. These are issues where I think there is a case for discussing making changes. But I guess my almost philosophical difference of opinion with David Cameron here is that I think it's better to approach these issues to try and get consensus from a position of collaboration, rather than doing what the UK government is appearing to do just now, which is stamp its feet and sort of threaten to throw all of its toys out of the pram if doesn't get its own way."
euronews: "Could you explain this 'double majority' that you are proposing for the EU referendum?"
Sturgeon: "It's quite simple. The UK is not a unitary state. It's a multi-national state, and during the debate on Scottish independence we were told that each nation of the UK had an equal voice and would be listened to. Now, if that's true, and I hope that those saying that did mean that, then it surely would be wrong for Scotland or Wales or Northern Ireland to be taken out of Europe, even if we vote to stay in, just because England has got the much bigger population and can effectively outvote us. So, a double majority arrangement…"
euronews: "Is it democratic?"
Sturgeon: "Well, let me finish explaining what it is and then I will explain why — absolutely — it is democratic.
"The double majority — these kind of arrangements are commonplace in federal systems — would mean that the UK could only come out if England, Wales, Northern Ireland and Scotland voted to come out — if each of the component parts of the UK [voted to come out]. That's more democratic than one country being taken out against its will."
euronews: "But it's a referendum on British membership of the EU, not the individual countries."
Sturgeon: "But Britain is not a unitary state… the United Kingdom [she names the UK because this is the official name of the member state], to be precise, is not a unitary state.
"Anybody who wants to argue that it is right that Scotland — even if we voted to stay in (or indeed Wales or Northern Ireland), regardless of that — should end up outside of the European Union… Given all the consequences that would have for jobs and investment and our society, our very sense of who we are, I think [they] are the ones arguing an undemocratic case."
euronews: "But you would essentially be vetoing [it] if the rest of the countries voted to leave?"
Sturgeon: "I put forward a case last year in the Scottish independence referendum that Scotland should be a member state of the European Union in its own right. That's not what is happening. We have got to recognise the nature of the United Kingdom. It's not a unitary state. It's a multi-national state.
"If you want to be a multi-national state that genuinely allows the voices of all of the nations within it to be heard, then you have to accept sometimes that these compromises have to be made. It would be fundamentally undemocratic for Scotland to find itself at the exit door of the European Union if we had, in a referendum, voted to stay in the European Union."
You can watch the full interview below.