Egyptian Human Rights Council calls on state to end abuses
Comments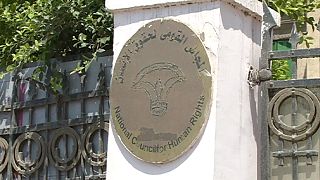 Egypt's National Council of Human Rights (NCHR) has published a report saying that the country still has a long way to go in respecting basic principles. Among its recommendations is to limit the death penalty to the most serious crimes.
This could refer to the sentencing to death of former president Mohammed Mursi and hundreds of members of the Muslim Brotherhood — rulings sorely criticised by the United Nations.
The NCHR report covers from June 2013 to the end of 2014, during which the military removed Mursi from power and Field Marshall Sisi became head of state.
NCHR member Yaser Abdel Aziz said: "Violation number one is the attack on the right to life by the Muslim Brotherhood and allied terrorists. Then we have illegal detentions: imprisonment outside the law. This in itself becomes a sentence, along with all the violations that happen in the places of detention."
In May, the International Human Rights Federation condemned what it called the indiscriminate use of sexual violence by Egyptian security personnel against detainees, with impunity: the rape and so-called virginity testing of women, and abuse of political opposition members and homosexuals.
A public uproar erupted in a Cairo court house on Sunday when woman lawyer Mahinour al Masry and other rights activists were sentenced to 15 months in prison because they had entered a police station to ask for information about another arrested lawyer.
Marwa Shaaban, married to a journalist convicted in absentia, says:
"What used to happen while the Brotherhood governed is happening under Sisi and is even more horrifying. Sisi's rule is a dictatorship, a regime that murders, humiliates and arrests people. There are more than 40,000 detainees in prisons."
In spite of the report highlighting many violations, rights activist Malik Adli said the CNHR has no power:
"The Council has no legal authority. The state institutions are not obliged to answer to it. No law guarantees it access to the institutions involved in human rights violations."
Cairo correspondent Mohammed Shaikhibrahim summed up: "From Tahrir Square, where I'm standing, millions of Egyptians demanded freedom, justice and dignity. These wishes will need years and enormous effort before they come true."