India's soaring temperatures leave 1,800 people dead
Comments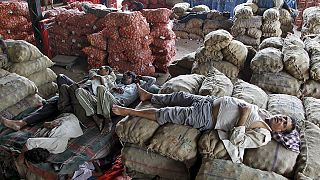 More than 1,800 people have died in India's heatwave in just one week.
Most of the deaths have occured In central and southern areas where temperatures have soared to nearly 47 degrees Celsius melting some roads.


Asphalt in New Delhi melted amid soaring temperatures: http://t.co/iqdX3oJ52Tpic.twitter.com/YWV3N8ha1R

—

NYT

Photo (@nytimesphoto) May 28, 2015
Authorities have advised people to stay out of the sun, cover their heads and drink plenty of water but poverty forces many to work despite the risks.
"We cannot bear the heat even just standing there doing nothing, let alone working," said road maintenance worker Paka Ram. "We know the government has warned people against this. But we need food. How are we supposed to eat if we stop working?"
An overused electricity grid has left many living in the capital's slums without power.
"Life is very difficult, said one slum resident. "We have no water, no power, nor any other basic facilities."
Many people have flocked to cool off in water less than 30 degrees Celsius at one of Mumbai's landmarks, the Gateway of India.


More than 1,800 killed as deadly heat wave persists across India http://t.co/a97i0v3HW8pic.twitter.com/43k7LxcsGv—

TIME

.com (TIME) <a href="https://twitter.com/TIME/status/604249633892737024">May 29, 2015</a></blockquote> <script async src="//platform.twitter.com/widgets.js" charset="utf-8"></script> <br><br> <blockquote class="twitter-tweet" lang="en"><p lang="en" dir="ltr">Ahmedabad introduced measures such as cooling spaces to beat heat as 1,786 killed in heat wave <a href="http://t.co/bJEULr5YpM">http://t.co/bJEULr5YpM</a> <a href="http://t.co/nolcvY4yc7">pic.twitter.com/nolcvY4yc7</a></p>&mdash; TODAY (TODAYonline) May 29, 2015