Germany's GDL union promises long train drivers' strike
Comments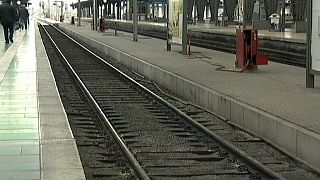 German trains are at a near standstill today after another strike called by the GDL union began. It warns it could be longer than the last, which paralysed the network for six days, costing say employers 100 million euros a day.
"This was my last trip ever with Deutsche Bahn. I won't let them ruin my trip again. Twice was enough," said one disgruntled commuter.
GDL has brought its drivers out nine times in the last ten months and says there are real issues of representation to be resolved. Critics say it is as much a case of a small union acting tough to recruit new members.
"It cannot be that millions of people across Germany are affected by this needless escalation, especially during Pentecost weekend, the busiest after Easter and Christmas," said Deutsche Bahn's Head of Personnel Ulrich Weber.
GDL's leader says most drivers have answered the strike call, and he is delighted with the mobilisation.
"We have 3300 members on strike every day, and all this means is that our members have understood and they know this is all for them. They are determined to carry on for a longer time," said Claus Weselsky.
Deutsche Bahn has been struggling for years with both freight and passenger services consistently losing out to private competitors who have been poaching both customers and regional government contracts.
On Friday the Bundestag votes for a new law that critics say will make it harder for small unions like GDL to cause such disruption. It comes into effect in July.