Saudi-led airstrike leaves former Yemen president's home in ruins
Comments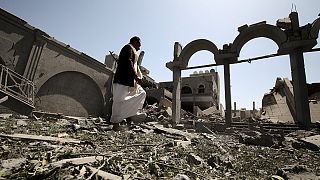 Saudi-led coalition airstrikes in Yemen continued on Sunday, leaving a Sanaa residence of former Yemeni President Ali Abdullah Saleh in ruins.
An eyewitness said three airstrikes hit the area during dawn prayers and left civilians injured.
"There were three airstrikes during the dawn prayer time that hit civilians, the injured are civilians, they didn't show us mercy and they didn't let any of God's mercy come down on us. But [referring to the Saudi King, he says] for a lot of days Salman will not give up and will not leave us alone," said Abdullah al-Roudi.
Saleh and his forces back the Iran-allied Houthis in Yemen.
#Yemen | The house of former Yemeni president Ali Abdullah Saleh in Sanaa which was targeted by #Saudi-led coalition. pic.twitter.com/rKWP746WGA

— Zaid Benjamin (@zaidbenjamin) May 10, 2015
Airstrikes in Yemen started in March to prevent a Houthi advance and restore the government of current President Abd Rabbuh Mansur Hadi. He fled his home and is taking refuge in Riyadh.
The UN says many of the airstrikes breach international humanitarian law.
Meanwhile Houthi fighters have accepted a five-day cease fire which is due to start on Tuesday night.
Saudi Arabia proposed the truce in Yemen after the US secretary of state appealed for a pause to allow humanitarian aid into the country.
The ceasefire, scheduled to begin on Tuesday, would help ease the suffering of civilians in the Arab world's poorest country who increasingly lack food, fuel and medicine since the bombing campaign began on 26 March.
The conflict in Yemen has killed more than 1,400 people – many of them civilians, according to the United Nations.
#Yemen | House of former president Ali Saleh is targeted by #Saudi-led coalition after a brief appearance by Saleh pic.twitter.com/oeRQ49pk17

— Zaid Benjamin (@zaidbenjamin) May 10, 2015