Russia has just unveiled its new battle tank, the Armata T-14. The impressive piece of weaponry is one of the first visible signs of Russia's 23
Russia has just unveiled its new battle tank, the Armata T-14.
The impressive piece of weaponry is one of the first visible signs of Russia's 23 trillion rouble (410 billion euro) revamp of its military over the course of 10 years.
The Armata Universal Combat Platform is a next generation fighting machine which represents a significant technological leap forward from its predecessor, the T-90, which entered service in 1993.
The "Armata" platform is versatile and will perform a variety of roles from main battle tank to a heavy armoured personnel carrier.
The T-14 (the main battle tank version) is to be less ambitious than the now cancelled T-95 and will be lighter and more affordable.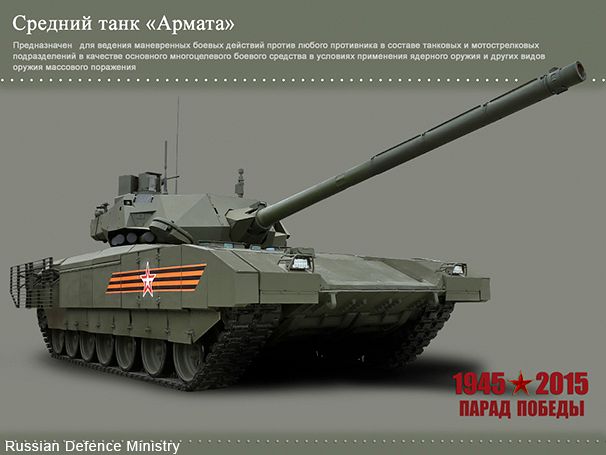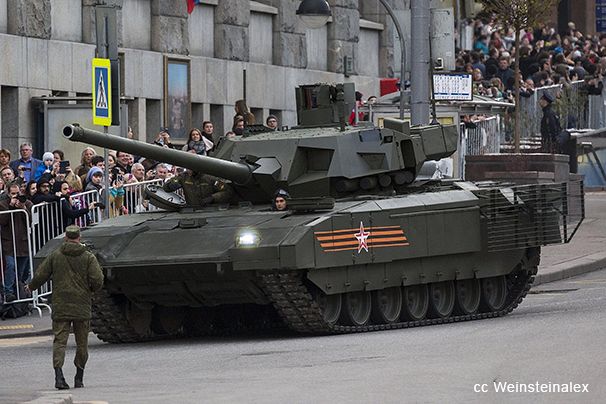 One innovation is its unmanned remotely-controlled turret which will be operated by a crew member in a separate compartment.
It is believed this is a step towards fully robotic tanks in the future.
The tank will use radar equipment and other technologies straight from the Sukhoi T-50 fifth generation fighter jet.
The steel armour has been specially developed to not lose its qualities at extremely low temperatures, perhaps hinting at Russian military ambitions in the Arctic.
And, like its predecessor, it will have a 125 mm gun but as-well-as normal tank rounds it will have the capability of firing laser-guided missiles.
With victory parades planned in 26 cities in Russia on May 9, celebrating 70 years since the Soviet victory over Nazi Germany, the T-14 is expected to be the star attraction.
It is notable that despite an expected contraction of the Russian economy of almost 4 percent, Putin's rearmament plan has remained a priority when deep cuts are appearing everywhere else apart from pensions and agriculture.
Spending on defence now represents around a third of the nation's overall budget.
Along with the annexation of Crimea and Russia's backing of separatists in East Ukraine this is another example of the Russian President flexing his muscles in the face of his Nato foes.
But despite the fanfare all may not be as it seems.
The Russian Finance Minister Anton Siluanov is among those who have called the planned military spending unsustainable and called for it to be scaled back.
Meanwhile others have attacked the approach to the rearmament programme as outdated, inefficient and "Soviet" in style saying it is overly bureaucratic and even corrupt.
There are others still who say that Russia's defence industry is simply not capable of manufacturing the kind of sophisticated weaponry that is planned.
But now with the arrival of the T-14, President Putin has something tangible to show his doubters and 70 years after Russian troops rolled into Berlin the message is clear.
[The tank's first outing wasn't quite as smooth as the authorities might have hoped!]