US Muslims condemn gun attack on Texas anti-Islam art show
Comments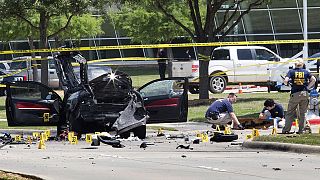 American Muslims have condemned the attack on an art centre in Texas by two gunmen, one of whom may have had jihadist sympathies.
'They were there to shoot people' – Texas police on cartoon exhibition attack http://t.co/fAMPWKb2tLpic.twitter.com/v3RMdOPL4z

— RT (@RT_com) May 5, 2015
The two attackers were shot dead by police after they had opened fire on the building which was featuring caricatures of the Prophet Mohammad. Local Muslims who found this offensive say they had planned to ignore the event.
"So out of 100,000 Muslims who live in this great metropolitan area, not one came to the Garland Event Center and protested or participated in any type of protest. They just ignored this entire incident that itself also shows that amongst the Muslim community there is a great amount of respect for the freedom of speech," said the President of Islamic Society of North America, Azhar Azeez.
The exhibition had been organised by Pamela Geller who is known for her outspoken criticism of Islam and whose organisation, 'American Freedom Defense Initiative' (AFDI) sponsors, among other things, anti-Islamic advertising.
While the AFDI says it is promoting freedom of speech, the Southern Poverty Law Center has described it as a hate group.
Council of American-Islamic relations, Director Ibrahim Hooper was forthright in his remarks:
"There is no excuse for an attack of this type, even on an anti-Islam event. We believe even anti-Muslim bigots like Pamela Geller and Robert Spencer and Geert Wilders have the right to air their hatred and bigotry and we have the right to peacefully challenge that bigotry."
One of the dead gunmen is said to have been under surveillance by the FBI as a terror suspect. Police are now investigating whether he had any links with militant groups overseas.