May Day marches in Athens, Madrid and Moscow
Comments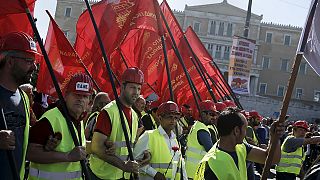 May Day protesters in Athens have been joined by the Greek Finance Minister in a show of defiance against international creditors as negotiations continued to end the stalemate over the bailout.
The Prime Minister was confident a deal would be reached over the weekend to unlock funding from a 7.2bn euros bailout package.
May Day rallies in Athens (http://t.co/x5kkgLYqwC) and in İstanbul (http://t.co/q2sbFeARcU) pic.twitter.com/Izvmo65FIjhttp://t.co/xevpBVhMg8

— Dimo Yagcioglu (@DimoYagcioglu) May 1, 2015
Spain
While in Madrid, around 10,000 people turned out for the annual May Day march holding banners with the message 'this is not the way to exit the crisis'.
The Spanish economy is slowly recovering from a double-dip recession which struck in 2013 and is still struggling with an unemployment rate of 24%.
May day in Madrid pic.twitter.com/51fW5i6JQq

— kwangsik Lee (@kwangsikee) May 1, 2015
Russia
The biggest gathering was reserved for Moscow where tens of thousands are said to have turned out for the march across Red Square.
Though the emblems of the Soviet past were on display, the symbols of modern day Russia were also in evidence.
And despite the country's current economic woes there was little criticism of President Vladimir Putin.
"It is a holiday of peace and labour. I love my Moscow, my city, that is why I come to celebrate this holiday every year," said one of the marches.
"In principle currently I agree with the country's political course, with our president, that's why I am here," said another.
For many Russians May 1st has little to do with international socialism, but marks the beginning of a week of holidays with Victory Day on May 9 with many heading off for a holiday.