'Turkey shares your pain', Erdogan tells Istanbul Armenians
Comments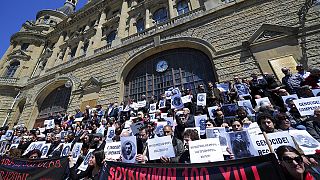 Today Armenians make up one of the largest ethnic communities in Istanbul.
Many came to the Armenian Patriarchy Mother Mary Church for the main memorial service for their ancestors who perished in the mass killings of World War I.
For the first time a member of the Turkish government was present.
The EU Minister Volkan Bozkır said Turkey respected the sorrow that its Armenian brothers had experienced.
"We say this was a bad event, so we're not opposed to bearing witness and remembering this pain", the minister told reporters as church bells rang out.
The move was welcomed by religious officials.
"This attendance crowned the promises sharing our grief here. For this reason we are grateful," said the Spiritual Council Chief Priest, Tatul Anusyan. "For us it's important to have this date for peace. To learn from grief and not repeat the same mistakes is a duty for all individuals. It is much more important for this land which is the birth place of civilisations. We have to show the rest of the world what kind of a civilisation we are from."
The Acting Patriarch Aram Ateshian welcomed international support for Armenia but said politicising the nation's pain made it worse.
The Turkish state-run Anadolu Agency interpreted the comment as a criticism of recent declarations – including comments by the Pope and a resolution voted by the European Parliament – which called the wartime deaths "genocide".
In the run-up to the centenary commemorations Armenians living in Turkey had been uneasy, according to the Armenian news website ArmeniaNow.
"I have grandparents who also died. We are experiencing the pain of (that loss). But when we look at it today, people in Turkey, people around the world must know about the suffering of the Armenians. People should approach this in the right way. Nobody should try to exploit this event," said one Armenian man, Casım Karaca, who attended the service.
A message from Turkish President Recep Tayyip Erdogan was read out at the service. Turkey shares Armenians' pain for the "sorrowful events" of 1915, it said.
Euronews correspondent in Istanbul Bora Bayraktar reported from the service:
"The major memorial service was held at the Mother Mary Church in Kumkapı. For the first time in history Turkey was represented at ministerial level. With this step, Ankara tried to strengthen its position of saying "We have no problem with Armenians, and (we share) a common grief."