Colombia lifts bombing truce after deadly FARC ambush
Comments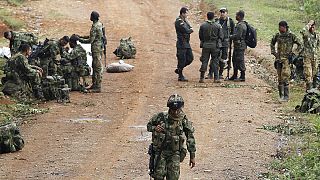 Colombia has ordered the resumption of bombing raids against FARC rebels following the deaths of at least 11 soldiers in a clash with the left-wing guerrilla group.
Colombian soldiers die in Farc attack as ceasefire is breached >> http://t.co/GyHTK9TqMgpic.twitter.com/3WxzZqN84q

— eNCA (@eNCAnews) April 15, 2015
As part of peace talks with the Revolutionary Armed Forces of Colombia (FARC) , President Juan Manuel Santos last month stopped raids on rebel hideouts in recognition of their declaration of a"unilateral cease fire":http://www.euronews.com/2014/12/18/colombian-government-welcomes-farc-truce/.
Colombian President Juan Manuel Santos gave his response to the attack on his soldiers:
"The decision of a bilateral ceasefire can not be taken as a given, I repeat cannot be a given nor will it be, but as a result of a serious, permanent and verifiable agreement to the end of the conflict."
talks under threat
The two sides have been holding peace talks in Cuba since 2012. It's unclear what affect the attack will have on them but a FARC negotiator in Havana was highly critical:
"Everything has a cause and in this case it's incoherence on the part of the government – ordering military operations against a rebel force in a ceasefire," said FARC member Pastor Alape.
Although the incident is unlikely to derail the two-year-old peace talks, it is the first major clash blamed on FARC since their ceasefire declaration in December.
Last year talks were suspended after rebels kidnapped an army general and several soldiers. They have since been freed.
17 injured in attack
The Colombian government said that 17 other soldiers were injured in Wednesday's attack.
Since 1964 when the FARC group was founded with the ambition of installing a Marxist regime, an estimated 220,000 people have been killed in the five decades long conflict.
FARC is listed as a terrorist organisation by the US and Europe.
Colombia says military had its biggest loss since peace talks—10 soldiers killed, 17wounded http://t.co/DhCsIYTQem via GlobalPost</a></p>&mdash; Alex Leff (alexleff) April 15, 2015