Obama pledges extra humanitarian aid after meeting Iraqi PM
Comments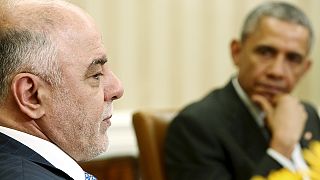 US President Barack Obama has announced almost 190 million euros worth of extra humanitarian aid for Iraq.
It comes after a meeting with the country's prime minister, Haidar al-Abadi, at the White House in Washington.
But Obama would not say whether the US would provide Apache helicopters and other arms to Baghdad, as it continues to battle ISIL militants.
Abadi is facing a cash crunch thanks to a plunge in oil prices and is eager to receive high-end weapons. But the White House said that he had made no specific requests for military assistance during his meet with the president.
In a warning to Iran, Obama said that foreign fighters in Iraq must respect its sovereignty.