Budapest: Thousands march in remembrance of Holocaust victims
Comments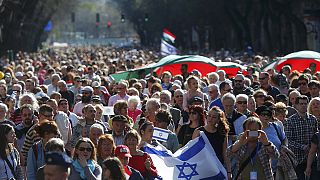 Hungary's annual March of the Living which is held in remembrance of the victims of the holocaust was attended by thousands in central Budapest on Sunday.
here is #Budapest#Hungary …the annual "March of the Living" walk for #Hungarian#Jews that died in the #Holocaustpic.twitter.com/JVY5IKyU1Y

— Tamer Yazar (@tameryazar) April 28, 2014
Nearly 600,000 Hungarian Jews perished in the Nazi concentration camps, most of them in 1944. Today the country's Jewish community numbers at around 100,000.
One survivor said he went through both camps, the one in Auschwitz-Birkenau and the one in Dachau. He says he was in each for 4 months at a time and it gave him such a sense of spirit that he always attends March of the Living events.
Rising support for far-right
But this year's rally took place amid rising support for Jobbik, a party often accused of anti-Semitism, and which is now Hungary's second-largest party behind Prime Minister Viktor Orban's ruling Fidesz.
An Ipsos survey conducted between Jan. 3-10. showed support for Fidesz dropped two points to 23 percent of all voters in January.
Support for Jobbik was unchanged at 14 percent in the same month but this had grown from 12 percent measured in November according to the survey. It estimated that as many as 150,000 voters had switched from Fidesz to Jobbik over the past few months.
The survey said Jobbik had overtaken Fidesz in popularity among the unemployed and skilled workers, while among voters younger than 30 Fidesz retained a tight lead over the far-right.
President of the World Jewish Congress Ronald S. Lauder who was in Budapest for the march warned that ruling Fidesz was leaving a vacuum which Jobbik was attempting to fill:
"Jobbik has a role to play that Fidesz and the socialists are not doing. And that is a dangerous game. Because this is very very much like other right wing parties in the past had risen. And then once they got in power, changed everything."
Reporting for euronews from the march was Andrea Hajagos who said:
"Hundreds of thousands of Hungarians were victims of the Holocaust, probably this is why many people are shocked by the latest research showing that anti-Semitism is still growing in Hungary, and especially in Budapest which has the largest Jewish community."