Calls grow for humanitarian access as Yemen casualties rise
Comments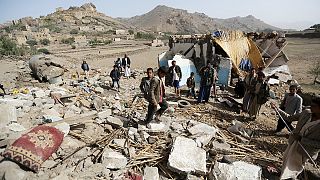 There are growing international calls for a ceasefire in Yemen and urgent aid for its people as the conflict intensifies.
The Arab coalition claims its airstrikes have made headway against Houthi fighters. Even so Saudi Arabia has reinforced its southern border with Yemen, fearing attacks by rebels.
There is evidence of Houthi activity close to the frontier. Several Saudi border guards have been killed, and the authorities say they have stopped tens of thousands of people from crossing the border. Large amounts of weapons and ammunition have been intercepted.
The Saudi-led coalition backed by Yemeni militia claim to have hit rebel Houthi weapons depots in and around the capital Sanaa.
Other raids also reportedly hit Houthi positions in the north, and on the Red Sea coast.
But civilians are paying a heavy toll.
The UN says hundreds have been killed over the past fortnight. UNICEF
has counted at least 74 children among the dead.
Hospitals are also struggling to treat large numbers of wounded with insufficient supplies and some medical facilities have reportedly come under attack.
The International Committee of the Red Cross (ICRC) has said that supplies and staff are lacking and has called for an immediate humanitarian pause.
"I appeal for the salvation of the Yemeni people. More injured people are dying inside the hospitals from the sheer number of cases, than those who have received first aid outside," said Mohammed al-Lehby, injured in airstrike, from his Sanaa hospital bed.
In the same hospital a widowed mother tended to her wounded son, badly burned when a gas tanker in a residential area was bombarded.
"If their children were in the position of my child, what would their response be? Look how awful our situation is right now, where our children are burned like this and we've been made homeless," Umm Ibrahim al-Yarimi cried.
In Sanaa, as well as in the besieged southern city of Aden and elsewhere, fighting is raging often between different groups – with civilians increasingly caught in the middle.