Protests in German town after suspected arson at asylum shelter
Comments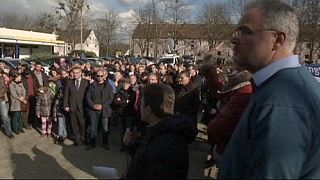 Residents of an eastern German town held a protest on Saturday, in solidarity with refugees following a suspected arson attack on a building intended to house asylum seekers.
Two Germans – currently the only people staying there – escaped unscathed from the fire at the house in Tröglitz, where anti-foreigner sentiment has already made headlines.
The town's mayor, Markus Nierth, had already quit over the rise of the far-right.
He told the demonstration: "We are here for a difficult, horrible and sad reason that has unfortunately brought Tröglitz back into the media spotlight. I am speechless. This morning I tried to give some sort of explanation to the press but I have no words for it."
The roof of the house was destroyed by the fire which broke out early on Saturday morning.
The former mayor had been behind the plan to house asylum seekers.
It resulted in a protest outside his home by the far-right National Democratic Party.
The mayor resigned in March saying he feared for his family's safety.
Official statistics revealed a 60 percent rise in the number of asylum seekers in Germany last year.
The state premier for the region, Reiner Haseloff, drew applause from the crowd with his promise that the police will "put these gangsters, these criminals, behind bars as soon as possible".
He added that the fire would not hinder efforts to integrate asylum seekers in the area.