Syria: ISIL militants seize parts of Palestinian camp
Comments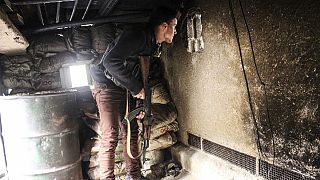 ISIL militants have reportedly taken control of large parts of a Palestinian camp in the Syrian capital.
Video uploaded to the internet purportedly shows smoke rising from a neighbourhood of Yarmouk in southern Damascus.
ISIL is said to be in control of some of the main streets of the camp, which currently houses up to 18-thousand people.
Fierce clashes were continuing, according to the British-based Syrian Observatory for Human Rights.
Yarmouk has been caught between government forces and Syrian insurgent groups, including ISIL rivals such as al Qaeda's Nusra Front.
It was once a thriving neighbourhood, home to 160-thousand Palestinian refugees and Syrians. But the fighting in recent years has forced many to flee.
Those who remain have been facing significant shortages of food, water and medicine.