'Fifty-fifty chance of reaching a nuclear deal with Iran' as deadline for a deal looms
Comments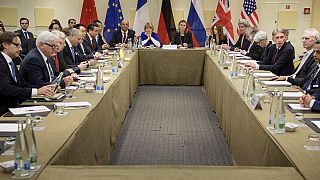 Six world powers and Iran are still struggling to reach a preliminary nuclear deal with only hours to go before a self-imposed deadline.
Gloom set in on Monday when Iran appeared to back track on agreeing to dispose of its uranium stockpile by sending it to Russia. That issue now looks like having to be resolved at a later date.
Ministers don't want it to derail what progress has already made.
Iran analyst Ali Vaez from 'International Crisis Group' spoke to euronews:
"The mere fact of an agreement is in itself a big success for the diplomacy – to solve complex issues some of which have been debated for the last 18 months or even 12 years, is a great step forward, but it's not the end of the road. The (potential) agreement will be vulnerable and for the months to come it will come under pressure from all sides. To write a final and definitive agreement, with all the necessary technical and political details, it will be difficult."
For days now the six world powers have been trying to break an impasse in negotiations aimed at ensuring Tehran cannot develop a nuclear bomb, in exchange for an easing of United Nations sanction which are crippling its economy.
A spokesperson for the US said the reality is there is a 50/50 chance the parties will succeed in getting a deal by midnight tonight.
Main sticking points
The duration of any limits on Iranian uranium enrichment and research and development activities after an initial 10 years.
The lifting of UN sanctions and their restoration if Iran breaches the agreement.
Iran's demand to continue with research into newer generations of advanced centrifuges which can purify uranium faster and in greater quantities than those it currently operates, for use in nuclear power plant or – if very highly enriched – in weapons.