Media respect called into question over Germanwings coverage
Comments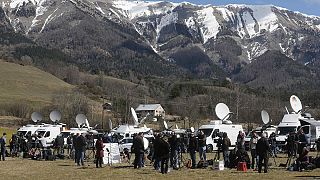 The Germanwings disaster has heavily marked Seyne-les-Alpes, population 1,500, the town nearest Tuesday's crash site in the southern French Alps.
Hundreds of police, emergency personnel, experts and officials have converged on the centre for operations, and with them many journalists, from many countries.
The day after the crash they already counted 1,500. Some of the Seyne-les-Alpes inhabitants' opinions about them have been negative.
One woman said: "I understand that [with] 150 people [killed]… well, of course there'll be a lot of journalists. But just talking about it bothers me."
Another resident said: "Every time people are killed, the media show up. They'll sooner tell you a catastrophe has happened than that someone has done something good, saved someone or something. That's the way it is. Society is like that."
Some French news stations have been criticised for the intensity of their pursuit of the event, as perhaps being disrespectful. Foreign media, in contrast, have kept to strict rules, respecting the victims' families.
Journalist Andreas Weise, with German public service television station ZDF, said about some of his French confreres: "They will push someone in front of a camera even if they don't want to be there. We [journalists] have to take great care. I'm not even sure I would broadcast it if someone asked to say something. In an extreme case where a person has lost a dear one, I want to protect people from themselves."
That same caution as to what is proper is found among the Spanish journalists in Seyne-les-Alpes to cover the disturbing story. Journalist Pere Bosch, with Televisió de Catalunya, said it is the biggest he has ever covered.
Our French correspondent Laurence Alexandrowicz asked: "What is your professional approach to speaking with the families? Do you have a rule, a limit?"
Bosch said: "I got here by bus from Barcelona yesterday with 13 families, and the fairly strict rule is to keep a safe distance of respect. We follow that. It's a terrible time for the families, and we have to respect their privacy and feelings."
There is a revolving debate about this in Germany. Some media outlets have not even published the full name of the Germanwings copilot, Andreas Lubitz, who was at the controls of the aircraft, while others have.
Of course, not all the journalists outside the house of his parents, where he lived in the town of Montabaur, or at the flying club where he first got his wings as an adolescent, are foreign.