10,000 people in Le Mont-Saint-Michel enjoy 'super moon effect'
Comments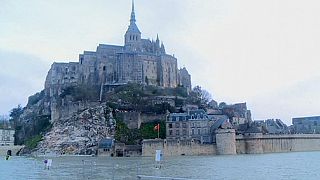 Ten thousand people have gathered in Le Mont-Saint-Michel in France's Brittany
region to see something unusual: an exceptionally high spring tide caused by the so-called super moon effect linked to Friday's (March 20) solar eclipse.
"Mont Saint-Michel is completely surrounded by the sea," explained one local man, adding, "I was born in this region and I've never seen this. This has been the biggest reason to visit .. to see the tide of the century."
Thousands flock to #France's Mont Saint-Michel for 'supertide' http://t.co/fNcyYBLc8kpic.twitter.com/4kiXgmz8bc

— ST Foreign Desk (@STForeignDesk) March 21, 2015
Meanwhile in Brittany's walled port city of Saint-Malo, thousands of tourists gathered to look at spectacular waves at high tide. They will also see so;e surprises at low tide.
Laurence Bozzuffi, director of Saint-Malo's tourist office, explained: "…some areas of the coastline will appear for the first time in 15 to 18 years. It means it's almost more spectacular at low tide to be able to walk kilometers and see some secret little beaches that will only be revealed at this time."
Even though it's called the "tide of the century," the event happens roughly every 18 years.
Similar surges were predicted along the coasts of Britain and the Netherlands over the weekend.