Obama administration, Congress clash again over nuclear deal with Iran
Comments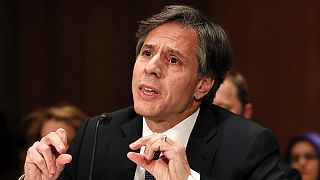 As negotiators in the Iran nuclear talks are racing to meet a March 31 deadline for a framework pact, the US government keeps facing stiff opposition to an agreement at home.
In a hearing of the Foreign Affairs Committee of the House of Representatives on Thursday, lawmakers from both parties voiced skepticism over Iran's serious intentions to abide by any agreement.
Several members warned that the ongoing negotiations between world powers and Tehran would lead to a deal that would expire after 10 years.
Once the deal ends, critics fear the Islamic republic could freely crank up its nuclear program and develop a bomb.
"That is simply not true," Deputy Secretary of State Antony Blinken told the hearing.
"To the contrary, Iran would be prohibited from developing a nuclear weapon in perpetuity, and we would have a much greater ability to detect any effort by Iran to do so."
He said that while some constraints would be lifted after a "significant period," others would last "indefinitely, including a stringent and intrusive monitoring and inspections regime" by the United Nations' International Atomic Energy Agency (IAEA).
And should Iran violate the agreement and begin a rush to a bomb, a process described as "breakout," Blinken stressed that restrictions on centrifuges and uranium mills would prevent Iran from completing a nuclear bomb for at least a year.
"That would provide us more than enough time to detect and act on any Iranian transgression," he said.
The ranking Democrat on the committee, Eliot Engel, was not convinced. What if Iran decides to "sneak out" rather than "break out", he asked.
Blinken's testimony, less than two weeks before a deadline for the outlines of a major deal came as Iran's Foreign Minister Mohammad Javad Zarif and US Secretary of State John Kerry reported progress in their talks Thursday in Switzerland. Yet, the two sides may not come to an agreement by the end of this month.
Blinken said Iran would be indefinitely barred under the Nuclear Non-Proliferation Treaty (NPT) from developing or acquiring a nuclear weapon.
Democrats and Republicans alike scoffed at the suggestion that such NPT restrictions would hold back Iran with Republican committee Chairman Ed Royce warning that Iranians "have been violating those commitments for years."
Other members voiced deep mistrust of the "bloody mullahs" (Republican Dana Rohrabacher) and blamed Iran for its ongoing support of global terrorism and for destabilizing the entire Middle East.
Lawmakers once again pressed the Obama administration to give Congress a greater say in approving any nuclear deal with Iran.
"I think the American people, through their elected representatives, should be weighing in on this deal," Republican congressman Michael McCaul, the chairman of the House Homeland Security Committee, said.