Australia's Tony Abbott rebuked for "stage Irish" St Patrick's Day video
Comments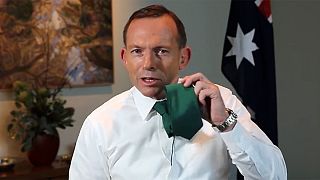 Ireland's Prime Minister Enda Kenny has criticised his Australian counterpart Tony Abbott over a St Patrick's Day video message in which he regrets not being able "to share a Guinness or two, or maybe even three".
I'm sorry I can't be there, to share a Guinness or two, or maybe even three, but like you I do rejoice in St Patrick's Day
Reports in Irish media including the Irish Times quote the Taoiseach as saying: "I've heard the (Australian) prime minister's comments. He made them. I don't agree with that. I think that it is perfectly in order for so many Irish people in Australia to have an enjoyable celebration of St Patrick's Day and St Patrick's week, and to do so in a thoroughly responsible fashion."
He also rejected what he described as "a long-term view of a stage Irish perception".
Kenny's reaction follows earlier criticism of Abbott's video last week, which insinuate that the Australian leader is guilty of perpetuating stereotypes. An unidentified Australian businessman branded the video "patronising", and it has been derided on the internet including on social media.
He's like an embarrassing uncle! HT #Abbott criticised by #Irish leader for #StPatricksDay video http://t.co/TNlepx7caN via @ABCNews

— Robert Fairhead (@tallandtrue) March 17, 2015
Abbott's comments come towards the end of the short film, recorded as he was unable to attend St Patrick's Day lunches in Australia. The video was uploaded to the Liberal Party's YouTube site.
In a gibe at his political opponents, he describes St Patrick's Day as "the one day of the year when it's good to be green", prompting an ironic note of thanks from the Australian Greens.
Thanks for plugging us, Tones :) @begley_patrickhttp://t.co/K2oV4zxbal#StPatricksDaypic.twitter.com/btj1HALWax

— Greens NSW (@GreensNSW) March 17, 2015
In the video, Tony Abbott also praises the day's celebrations as representing "the love of life and good humour the Irish have given Australia", paying tribute to "our Irish heritage".
In further references to Irish culture, he pointedly remarks: "As you can see I've got my green tie on for the occasion", adding that "it's been said of us that the English made the laws, the Scots made the money, and the Irish made the songs".
The Australian leader can justifiably be accused of joke and anecdote repetition. He made almost identical comments in his 2014 St Patrick's Day message, which he opened by saying: "I wish I could be with you to share a Guinness, or two or three, to celebrate St Patrick's Day. But as you can see, at least I have a green tie for the occasion."
At the time of writing, Abbott's 2014 St Patrick's Day message had gained just over 10,750 hits on YouTube. This year's message had scored nearly 168,000 hits.
The prime minister was not the only member of the Australian government to associate St Patrick's Day with alcohol consumption. The defence minister merrily added his own contribution on Twitter.
Too early? Happy St Patrick's Day! #auspolpic.twitter.com/XT3kjVWztH

— Kevin Andrews (@kevinandrewsmp) March 16, 2015
It is just possible that the Australian politicians are not alone in linking Guinness to St Patrick's Day, with reports suggesting that the Irish beer almost doubles its global sales on March 17 each year.
Last week Tony Abbott created another media frenzy and startled onlookers by eating a raw onion while visiting a farm in Tasmania.