Chile: Thousands flee raging forest fire
Comments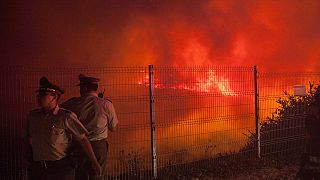 A raging forest fire has forced thousands of people to flee their homes in Chile.
Around four-and-a-half thousand people have been evacuated from the port city of Valparaiso and neighbouring Vina del Mar.
That number could almost quadruple, if the blaze continues to burn out of control.
Three firefighters have been injured and a woman has died.
A state of emergency has been declared.
The focus is on stopping the fire reaching populated areas of Valparaiso, a hilly city of mostly wooden houses.
The blaze started in a rubbish dump.