No narcissism: London's National Gallery museum bans selfie sticks
Comments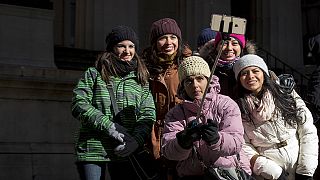 One of the world's most-visited museums has shown its contempt for modern narcissism by banning selfie sticks.
The National Gallery in London has joined other museums around the world in forbidding the extension poles, which allow smartphones to take better self-portraits by putting more distance between the device and the subject.
A spokeswoman for London's National Gallery told AFP: "After the recent popularisation of selfie sticks, the National Gallery preferred to take precautionary measures."
Art critic Brian Sewell told British newspaper The Times: "They are possibly quite dangerous to the artwork and cause appalling crowding around a painting.
"Anyone who actually wants to go and see a painting can't because people are too busy taking photos. I've seen things in the National Gallery which make my hair stand on end."
New York's Museum of Modern Art; The National Gallery in Canberra, Australia; and several museums in Washington have taken similar action. One, The Smithsonian Institution, said it was forbidding the sticks "to protect visitors and objects, especially when there is a lot of people".
London football team Tottenham Hotspur has also banned the sticks from its home ground, White Hart Lane.
Amazon UK reported sales of selfie sticks rose more than 300 percent between September and November 2014.