South Korea: Man arrested after knife attack on US ambassador
Comments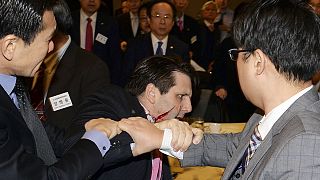 Police in South Korea have identified the man responsible for attacking US ambassador Mark Lippert as 55-year-old Korean nationalist Kim Ki-jong.
Dressed in traditional Korean clothing, Kim attacked Lippert with a small fruit knife during a breakfast forum held in Seoul on Thursday.
Lippert was taken to Yonsei University hospital where he received 80 stitches in his face. He was also treated for a puncture wound on his wrist and is expected to remain in hospital for three or four days.
US officials condemned the attack but said Lippert's injuries were not life threatening.
Kim is a member of the pro-unification group that hosted Thursday's event. Witnesses say he called for the reunification of Korea and condemned US-South Korean military exercises, which started this week, before launching his attack on Lippert.
Kim was arrested in 2010 for trying to attack the Japanese ambassador to South Korea.
South Korean officials also condemned Kim's actions.
"We express deep regret about what happened," Foreign Ministry spokesman Noh Kwang-il told journalists on Thursday. "Such harmful acts against the diplomatic delegation will not be accepted by any reasons, and we are taking this especially serious as it was committed against the ambassador to the US which is our most important ally."
Forty-two-year-old Lippert became ambassador to South Korea last year. He served as a foreign policy aide to President Barack Obama when Obama was a US senator.
A spokesman for the South Korean Ministry of Defense said that the US-South Korea military exercises,due to run for eight weeks, would go ahead as planned.