Artists hints at Monica Lewinsky scandal in Bill Clinton portrait
Comments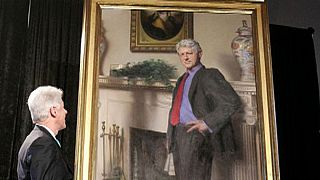 The artist who painted a portrait of Bill Clinton for Washington's National Portrait Gallery says he made reference to the Monica Lewinsky scandal in his work.
Nelson Shanks said he could never get the former president's liason with his intern out of his mind. He therefore decided to incorporate it into his painting.
"If you look at the left-hand side of it there's a mantle in the Oval Office and I put a shadow coming into the painting and it does two things," Shanks said. "It actually literally represents a shadow from a blue dress that I had on a mannequin, that I had there while I was painting it, but not when he was there."
Speaking to the Philadelpha Daily News Shanks said it "is also a bit of a metaphor in that it represents a shadow on the office he held, or on him". He describes Clinton as probably the "most famous liar of all time" who he says "hated" the portrait and wanted it removed from the gallery.
Lewinsky claimed that between 1995 and 1997 she had sexual encounters with Clinton, a scandal that centred on the intern's stained blue dress.