Diplomats swap warnings as West and Russia glower over Ukraine
Comments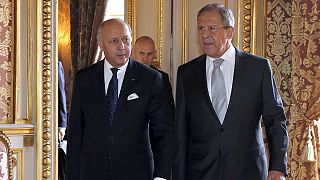 During the uneasy ceasefire along the eastern Ukrainian frontline diplomats from all sides are trying to cross the Ts and dot the Is on the "Minsk 2" agreement which Kyiv already claims is being flouted.
Any attack by separatists in the direction of Mariupol will drastically alter things
Russia's foreign minister appears to be anticipating just such a breakdown, and making it clear the fault will not be Moscow's.
"A lot now depends on an honest, objective and unbiased approach
by OSCE monitors who should observe what is happening on the ground so none of us succumb to attempts to make it look as though the Minsk agreements have already failed. There are many who want them to fail, both outside Ukraine and in Kyiv," said Sergei Lavrov.
The west turned a blind eye to the ceasefire-breaking onslaught that sealed the Russian-backed rebels' grip on the Luhansk and Donetsk area, eliminating a bulge in the Ukrainian army's frontline that cut communications between the two rebel cities and severely compromised their economic viability. But the West is warning any fresh attacks will not be ignored.
"We've told the Russians clearly that any attack by separatists in the direction of Mariupol will drastically alter things, including sanctions. I told Mr. Lavrov clearly if this happened then at a European level sanctions would be raised again," said French Foreign Minister Laurent Fabius on Wednesday.
However Mariupol, a city of some half a million people, is also critical for the economic future of Luhansk and Donetsk, as its port is the outlet for the Donbass's iron, steel and coal, despite the fact that it too has clapped-out production facilities dating from the Soviet era producing low-quality goods, and that any viable assets were long-ago stripped by oligarchs who either stole the money or invested it elsewhere in newer enterprises.
A military buildup continues on the rebel side, while Ukrainian volunteer forces have ignored Kyiv's calls to respect the ceasefire and are trying to push the enemy out of positions from where it can fire on the city. Despite Mariupol's limited value, it appears a battle is on the horizon, although some analysts are suggesting the city could be by-passed while the ultimate goal, a land bridge to Crimea, is secured.
On Wednesday German Chancellor Angela Merkel supported the French position, warning sanctions would indeed be back on the table if Russia supported continued violence, and that Europe was united on this point, adding this was a "very important signal" that needed to be heeded by Vladimir Putin.