Turkey's Erdogan proposes building mosque in Cuba
Comments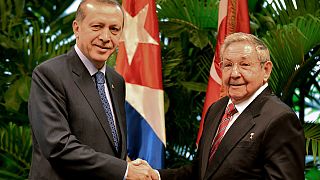 Turkish President Recep Tayyip Erdogan would like to build a mosque in Cuba.
He says floated the idea to his Cuban counterpart Raul Castro during a visit to Havana.
"I presented all the information, project work and visuals regarding the Ortakoy mosque," he announced.
On his official website, Erdogan was quoted as adding:
"We will do this ourselves. We don't want a partner. If you find it appropriate, we want to do this."
The President told journalists Saudi Arabia had already proposed something similar, which Cuba had agreed.
It is not known how Castro responded.
Erdogan first broached the subject publically in November 2014 in Istanbul, at a gathering of Muslim leaders from Latin America.
Muslims, he claims, reached the Americas first, some three centuries before explorer Christopher Columbus arrived in 1492.
The Turkish leader's belief lies in a reference made by Columbus to a 'mosque-like formation' at the top of a mountain, but scholars dispute this was a natural mountain feature.
Of Cuba's 11-million, mostly Roman Catholic population, only four thousand follow Islam.