Classical star Andrea Bocelli on his influences, nerves and passion for music
Comments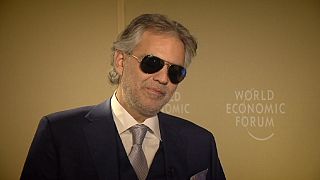 A global superstar who was blind by the age of twelve. An international singer who has sold in excess of 80 million albums worldwide. A deeply religious man who has met popes and sung for the former World Heavyweight Boxing Champion Muhammad Ali.
My foundation has dealt with two main projects that can be summed up like this: the first one is the fight for empowerment and the second one is technology, with the aim and hope of creating a tool that will remove all the difficulties for the blind.
Andrea Bocelli
Andrea Bocelli was born in 1958 in Tuscany, Italy
He loved music, especially opera, from an early age
He was born partially blind and lost his remaining sight at the age of 12
Opera star Luciano Pavarotti discovered Bocelli on hearing his demo tape in 1992
Andrea Bocelli is now the world's biggest-selling solo classical artist but is also famous for singing pop
In 2011 he launched the Andrea Bocelli Foundation to help fight poverty and fund medical research
Andrea Bocelli reflects on his life and achievements with euronews's Isabelle Kumar in this edition of The Global Conversation. He recalls the influences on his life and music and how his passion for singing began.
The Italian talks about stage fright and what he believes are the great responsibilities he shoulders as a performer. His nervousness, he says, is there whether he is singing in front of a class of preschool children or an audience of thousands.
Perhaps it could have been very different but for his parents putting a record player close to his bed when he was ill. It was he says, "a metaphysical experience".
His career in music runs parallel with his humanitarian work. He reveals his ambition to help create a special tool which will help blind people move around freely, to go shopping and to work, for instance.
Watch the video for the full interview.