Mattarella to be sworn in as Italy's new president
Comments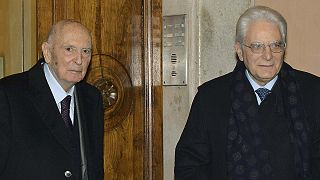 Incoming Italian President Sergio Mattarella has already said thank you to the outgoing Giorgio Napolitano for his seven years of sterling service, and will be sworn into office today in a ceremony broadcast live on euronews.
Mattarella was elected to his office on the last day of January in a vote seen as a victory for Prime Minister Matteo Renzi, consolidating his position. The former minister and constitutional court judge was Renzi's preferred candidate.
"He is an extraordinary gentleman, a respectable person who has fought against injustices and against the Mafia. He has been a parliamentary member, a minister, and a judge of the Italian Constitutional Court; and chose once to resign for an ideal; an ideal is more worthy than any position of power," said Renzi ahead of his taking the oath.
Mattarella began his career in the Christian Democrats but was
always on the left of that party, and gradually drifted away to be a co-founder of today's centre-left Democratic Party, the leader of the present coalition government.