SYRIZA widening lead in Greek elections
Comments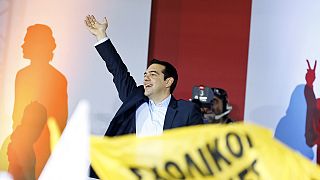 The man on track to win the Greek elections, Alexis Tsipras has held his final rallying call ahead of Sunday's vote.
The latest polls show his SYRIZA party has widened its lead over the ruling conservatives', New Democracy party, taking 36 percent of the vote. In third place, the centrist To Potami party is on track to become the kingmaker.
A win by SYRIZA is making Brussels nervous, as Tsipras has vowed to renegotiate the terms of the bailout which could trigger a standoff with the EU.
Euronews correspondent in Athens Stamatis Giannisis spoke to Eleni Rizopoulo at euronews' Lyon office about the stakes.
Rizopoulou: "With less than two days of campaigning left, what are the issues New Democracy and SYRIZA, the two main contenders, are focusing on?
Giannisis: "The great debate between New Democracy and SYRIZA is about the economy. The two rival parties have exchanged harsh words. New Democracy is accusing SYRIZA of having a hidden agenda, aiming to drive Greece out of the eurozone.
"SYRIZA has fought back, calling all this nonsense and nothing more than a desperate attempt to turn the tides in an election that New Democracy knows it has lost already.
"In any case this trench warfare between the two main contenders in this election, appears to have created an economic uncertainty for some Greeks who are withdrawing large sums of cash from their bank accounts, but not to the extent that will make the Central Bank worry about its cash flow.
Rizopoulou: "What if the winner of this election doesn't manage to reach the absolute majority? In order to form a government it will need to seek alliances with some of the smaller parties in parliament.
"We saw that even the former prime minister George Papandreou, is contesting this election with the new Social Democrat party that he has formed, aiming to play some role in the formation of a coalition government."
Giannisis: "As things stand, with the exemption of the far right Golden Dawn and the Greek Communist Party, all other parties that are going to make it into the next parliament, are potential allies of either SYRIZA or New Democracy.
"One such party is that of Mr. Papandreou. However, all recent polls are showing that the former Prime Minister's party is well bellow the the 3 percent threshold required in order to enter parliament.
"What it is achieving thus far, is to draw voters away from the main Socialist party, PASOK, which although it appears it will make it to the next parliament, it will suffer losses at the hands of Mr Papandreou's party.