Merkel embarrassed by Dresden protest ban after threat to Pegida
Comments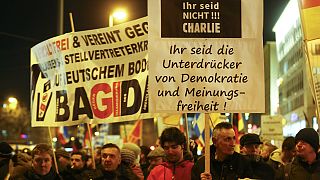 Several thousand people took to the streets of Berlin and other German cities on Monday night to protest their opposition to the anti-Islam movement Pegida.
It happened amid a lot of political soul-searching after a pro-Pegida march in Dresden was cancelled because of a terrorist threat.
Angela Merkel has previously condemned the group in strong language as "racists with hatred in their hearts".
But now she and other politicians are embarrassed.
"As German Chancellor – regardless of whether I like the content – I have to ensure that anywhere in Germany people can take to the streets in demonstrations because it is a fundamental right," Merkel said on Monday.
Police in Dresden, Pegida's birthplace, banned all outdoor public gatherings on Monday.
It came after the authorities said they had specific warnings of a terror attack.
Pegida said it was a death threat against its founder, Lutz Bachmann.
He seemed unfazed, telling a news conference:
"Hopefully there will be another march next Monday… to expand on this, we'd prefer it if the people's elected representatives would just do their job. Then, on Monday evenings, all of us – all 25,000 who take to the streets in Dresden – we could all go back to sitting on the couch at home and enjoying the evening at home with the family."
After first shunning the media, Pegida is now showing signs of a change of tactics.
The group, which stands for "Patriotic Europeans against the Islamisation of the West", did hold a rally in Berlin on Monday night.
The group denies it is racist or Islamophobic and has tried to distance itself from the far right – though some of its followers have expressed fierce anti-foreigner views.