French anti-terror laws toughened 14 times since 1986
Comments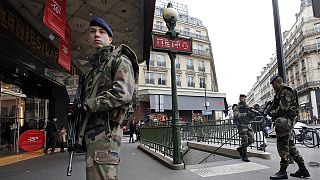 With each major act of terrorism, France has revamped the set of legal tools to fight it. When the Paris metro was targeted in the summer of 1995, its anti-terror legislation dated from nine years earlier. Ten people were killed when a bomb exploded in the Saint Michel station just around the corner from Notre Dame Cathedral, on 25th July.
The following year saw criminal association with a terrorist enterprise outlawed, and expanded the 1973 provisions by which a person can be stripped of French nationality.
Ten years later London's transport network was attacked. By this time France had reinforced its justice enforcement measures again in the fallout of the 9/11, 2001 massive deadly attacks on the US. Yet with 52 people killed in the bombings in Britain's capital on 7th July 2005, the French Interior Minister of the time, Nicolas Sarkozy re-wrote his country's legislation.
The re-write was approved on 23rd January 2006. This bolstered video camera surveillance in public places and monitoring of communications. At check points police were empowered to shoot at vehicles that do not stop when ordered, the time that suspects could be held for questioning was lengthened to six days, and sentences were hardened.
Measures were tightened again in 2008, allowing security forces to check identities on international trains 20 kilometres beyond French borders.
The French Assemblé Nationale last November adopted a law forbidding departure from France with the goal of joining jihad movements in Syria.
This is enforceable notably by confiscation of the national identity card and passport for an initial duration of six months, up to two years. It also authorises prohibiting entry into France of an EU citizen or the person's family members on the basis of suspicion.
This law further creates a framework for prosecution of a terrorist acting alone, such as the gunman who murdered four people at the Jewish museum in Brussels last May.
As individuals who have plotted to commit acts in isolation are known to have been radicalised with the Internet, the authorities are also empowered to request that a site owner or service provider remove content advocating, justifying or inciting violence.