#FoxNewsFacts: 'Terrorism expert' causes social media frenzy
Comments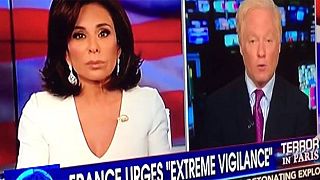 "In Britain, it's not just no-go zones, there are actual cities like Birmingham that are totally Muslim where non-Muslims just simply don't go in."
In Britain, it's not just no-go zones, there are actual cities like Birmingham that are totally Muslim where non-Muslims just simply don't go in.
These are the words of self-proclaimed 'terrorism expert' Steven Emerson, during an interview with Fox News. However, according to Birmingham City Council, Muslims make up 21.8% of the population of Britain's second largest city.
As #FoxNewsFacts reaches over 250,000 tweets, here's some #BBCNewsFacts about Birmingham pic.twitter.com/Bbt0uLLmUc

— BBC Trending (@BBCtrending) January 12, 2015
Emerson went on to say:
"And, parts of London, there are actually Muslim religious police that actually beat and actually wound seriously anyone who doesn't dress according to religious Muslim attire."
Emerson's comments have provoked a frenzy of ironic responses on Twitter, under the hashtag #FoxNewsFacts.
Brilliant! @Foxnews are referring to all the jokes at their expense are 'false facts attributed to us'. #foxnewsfactspic.twitter.com/Y89NEglXnJ

— sam learmonth (@samlearmonth) January 12, 2015
Here is a selection of our favourites.
The Queen is now being forced to wear a hijab by 'Moslems' due to the sharia law enforcement in the UK #foxnewsfactspic.twitter.com/PygydYLBGE

— immortal (@omfgitszoya_) January 12, 2015
In birmingham, buildings wear the burqa #foxnewsfactspic.twitter.com/S7fMfYkUht

— Malcolm Coles (@malcolmcoles) January 11, 2015
#foxnewsfacts Minarets being constructed all along the UK coastline by ISIS. pic.twitter.com/BoGrf90UFB

— Ric Facchin (@ForwardRole_Ric) January 12, 2015
At a height of 152m, Birmingham's main minaret is the tallest in the world #foxnewsfactspic.twitter.com/lzLa68aLD5

— BBC Free Speech (@BBCFreeSpeech) January 11, 2015
Thanks @FoxNews for reminding us all how graphs work...because 6 million is about 1/3 of 7 million? #foxnewsfactspic.twitter.com/ozk44dnItV"

— MJG (@MichaelGamache) January 12, 2015
Mecca Bingo, probable proof of the Islamic domination of Birmingham according to #foxnewsfactspic.twitter.com/idByIkkrzQ

— Lewis Bush (@LewisKayBush) January 11, 2015
Steven Emerson runs an organisation called The Investigative Project on Terrorism. He has since apologised for his remarks, which he conceded were "totally in error".