Thousands rally in North Korea in support of Kim Jong-un
Comments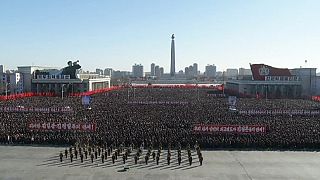 Tens of thousands of North Koreans have taken part in a rally in Pyongyang , to show support for their country's policies and leader Kim Jong-un.
The mass rally, like the New Year's address, has become a routine since Kim Jong-un took over North Korea at the end of 2011.
North Korea's top leaders, such as Kim, normally do not attend this kind of rally.
Instead, long-term regime survivor Kim Yong Nam is frequently the figurehead senior official, as on Tuesday, together with other top officials of the ruling Workers' Party like Kim Ki Nam.
Kim Yong Nam's formal role is head of the North Korean parliament, but since North Korea maintains Kim Il Sung who died in 1994 as its eternal president, Kim Yong Nam is often tasked with carrying out the protocol appearances of a head of state.
This week's rally featured the common North Korean practice of repetition of expressions of intense reverence and loyalty towards Kim Jong-un.
Kim's New Year address to the nation on 1 January this year highlighted the need to improve the supply of food and power to North Koreans, as well as addressing North Korea's relations with South Korea, and foreign relations in general.
North Koreans have suffered shortages of food, power, and daily necessities for decades, with a crisis in the 1990s that the country officially refers to as "the arduous march", and outside experts call a famine.