Lampard extended loan leaves sour taste in the Big Apple
Comments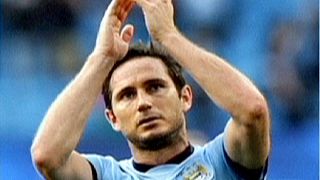 Frank Lampard is to remain at Manchester City until the end of the current season.
The former Chelsea midfielder signed for New York City last June, but joined the Premier League champions on a short- term, stopgap deal.
The extended loan period now means Lampard will miss the first three months of the Major League Soccer season.
The announcement has left a sour taste in the mouths of fans of the Big Apple.
New York City is jointly owned by Manchester City and the New York Yankees.
Lampard has scored six goals in 17 games for Manchester City.