Far-right Ukrainians mark anniversary of nationalist hero Stepan Bandera
Comments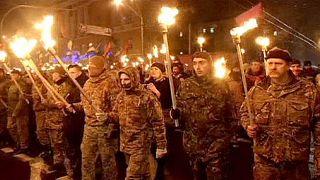 Thousands of far-right Ukrainians have marked the 106th anniversary of the birth of controversial nationalist Stepan Bandera.
He fought Russian and Polish occupation in Ukraine in the first part of the 20th Century.
They carried the red and black flags of the country's nationalist movement and the blue and yellow of the far right 'Svoboda' Freedom party.
They chanted "Glory to Stepan Bandera."
During those times he [Stepan Bandera] used to talk about Moscoviya [old Western name for Russia] and about Moscow being our enemy," said economist and Svoboda party member Valentina Barchiuk.
"Today it turns out to be exactly that way. Now Russia has attacked independent Ukraine and the words of Stepan Bandera proved to be true," Barchiuk added.
"God and Ukraine are above all. And in this context we do not see any other flag rather than Bandera. Bandera means flag in fact. And this is a flag of Ukrainian nation, the willful Ukrainian nation. And there is more and more of this willful Ukrainian nation, it is now being formed, it is at stage of being born," another participant in the march and nationalist movement member Volodymyr Petraniuk said.
The Right Sector movement also joined the traditional march, with its members wearing military uniforms. According to the movement's official web page, it considers Bandera as "the leader of the Ukrainian nation", uniting people.
The Right Sector gained fame last year at the beginning of the protest that toppled president Victor Yanukovych and now is active in fighting pro-Russian separatist forces in eastern Ukraine.
The annual march took place as Ukraine has faced months of conflict in the east of the country, where pro-Russian separatists proclaimed People's Republics in the regions of Donetsk and Luhansk. Since April the conflict has killed more then 4,000 people, including many civilians. A fragile ceasefire has been holding in the east from September despite both sides accusing each other of regularly breaking it.